Discover Bournezau
Charming village near our Guest House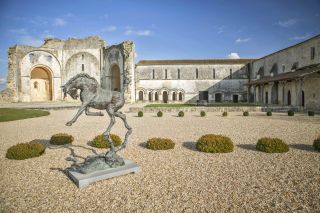 Located in the "Bas-Bocage" and at an equal distance from Puy du Fou and the Atlantic coast, the village of Bournezau is ideally located at the heart of the Vendée, 15 minutes from La Roche-sur-Yon, a town created by Napoleon Bonaparte. A pleasant holiday location, Bournezeau covers a large territory of 6300 hectares at exit 6 of the A83 motorway linking Nantes with Niort.
History has left its mark on this place, which you can discover by admiring the Romanesque Abbaye de Trizay from the 12th century and its medieval garden, or the numerous houses and châteaux in the municipality.
Yet Bournezeau can also offer a protected natural environment that is typical of the Vendée bocage, perfect for walking or enjoying a moment of calm. At the heart of the Pays de Chantonnay and its landscape of gentle hills and rivers, the village exudes the same pleasant way of life as our château nestled in a wooded park.